Regular price
Sale price
$23.99 USD
Unit price
per
Sale
Sold out
ELARA is a warm and unique blend of cocoa butter, coconut, and musk. It's truly perfect for everyday use!
Top Note: Coconut, Amber
Middle Note: Jasmine, Cocoa Butter
Base Note: Cedar Wood, Musk
Candle Care

1. READ your warning label located at the bottom of every candle.

 

2. First Burn: burn that thang for 3-4 hours! This ensures that the wax melts evenly throughout the life of your candle. 

 

3. Trim Your Wicks to 1/4 inch before every burn. Remove any debris from the candle before your next burn.

 

4. Stellar Black candles can take up to 30 mins to start dispersing scent. The scent from a single Stellar Black candle is able to fill small and medium-size rooms. 

 

5. Blowing out your candle is highly discouraged. Extinguish your candle by dipping your wick into the wax or snuffing the flame with a heat-resistant tool. Dipping your wick will also reduce the amount of smoke.

 

6. Ensure that your candle is fully cooled before putting the lid back on.

 

7. Our candles are made of coconut soy wax. Natural waxes, such as coconut soy, produce a "cauliflower" appearance upon cooling. This is a characteristic, not a flaw. 
Details

Made with coconut soy wax for cleaner burns!

8oz glass jar with black plastic lid.

Please recycle your containers!
Shipping + Local Delivery

We ship Monday-Thursday via USPS, FedEx, and UPS.
We deliver to the greater Charlotte, NC area Monday - Friday by 7pm.
All orders received before noon typically ship/deliver on the same day. Lead times are available in the announcements section of our site.
FAQs
Share
View full details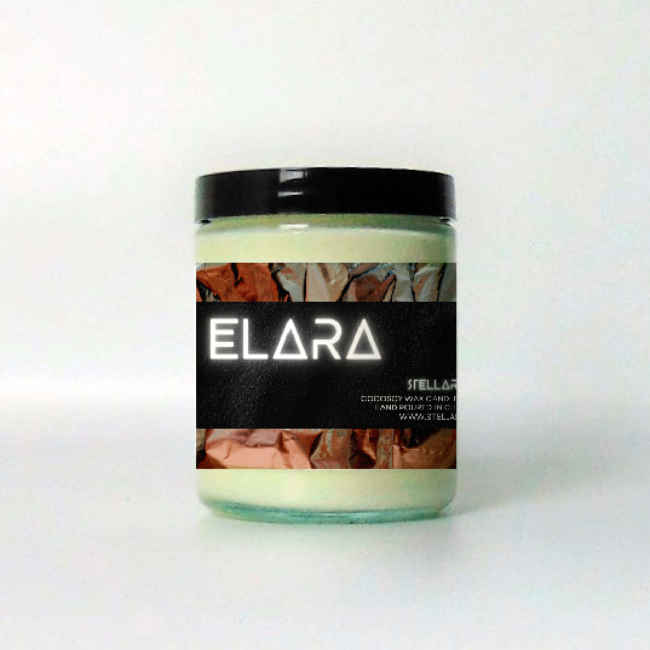 General FAQs
What is the shelf life of Stellar Black products?
We recommend using home fragrance items within 1-2 years of purchase.
We recommend using body care items within 6-9 months of purchase.
Are Stellar Black body butters suitable for sensitive/allergy-prone/acne-prone/baby's skin?
Stellar Black body butters are gentle enough for most skin types. While we're continuously working to create products with all skin types in mind, every body is different.
Please consult the ingredients found under our product descriptions to make your best determination on what works for you. If you are unsure, ensure you complete a spot/patch test on skin (inner arm is a great spot).
Our body butters contain heavy butters and oils, we do not recommend applying these to the face. We do not recommend using our products if you have known allergens to anything found in our products. 
Where does Stellar Black source their materials from?
We strive to use ingredients that are ethically sourced. Our suppliers are monitored frequently.
What type of fragrances does Stellar Black use in their scented products?
All Stellar Black SPACE and BODY fragrances are Phthalate-Free. This means that the smell is more subdued. However, the fragrances are non-toxic which is good news for your body. 
Additionally, our BODY products use fragrances that are body safe. This means that most skin types should not experience any irritation.  
What type of wax does Stellar Black use for candles/wax melts?
Stellar Black candles are made with Coconut-Soy wax. There is no paraffin in our wax which results in a "cleaner" burn.
We use 100% Soy wax for our wax melts.
Still have questions? Send us a message on the "Contact Us" page.